ISLAMABAD: Like Qandeel Baluch of Multan and the 16-year-old girl of Dera Ismail Khan, about 18 women of Pakistan face heinous crimes every day in four provinces of the country as they are murdered, raped, or killed in the name of honour, fresh official data collected by The News revealed. While experts believe a large number of crimes against women remain unreported in the country due to cultural and other reasons, even the reported cases show an alarming trend. So far this year alone, at least 274 women have been killed in the name of honour, 206 gang-raped, 2840 raped, and 681 have been murdered across the country, the data of registered cases. In total, more than 5660 crimes were reported against women in Pakistan's four provinces during the first 10 months of the year. Such is the gravity of the situation that even when this story was being complied, the news channels reported a fresh gang rape of a physically challenged 16-year-old girl in Faisalabad at the hands of unknown multiple culprits.
As expected, Punjab, the most populous province of the country is worst in terms of number of crimes. More than 3400 women faced heinous crimes in the province during first six months of the year. The province of Khyber Pakhtunkhwa reported lowest number of crimes against women with 202 cases between January 1st to June 30, 2017. Sindh witnessed 1704 crimes in first 10 months of the year while Balochistan reported 354 cases during the same period.
Experts believe reporting of crime is better in Punjab and Sindh which may explain the higher number of recorded crimes in these provinces while in KP and Balochistan, tribal culture and Jirga system discourages women from reporting crimes.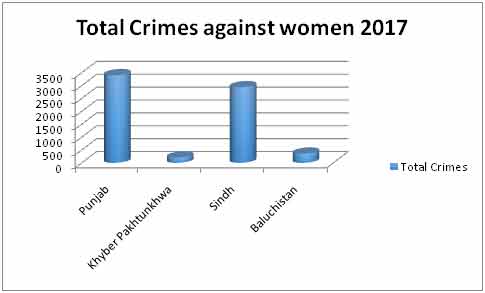 However if we compare the numbers with population of respective provinces under 2017 census, Sindh is worst in terms of violence against women per person with 61 crimes per million people. Punjab witnessed 31 crimes against women per million people while KP witnesses 6.6 crimes per million and Balochistan saw 28.6 crimes per million people.
Pakistani media discussed in detail the murder of Qandeel Baluch, a social media celebrity from southern Punjab who was killed in the name of honor allegedly by his brother and a 16-year-old girl of DI Khan who was paraded naked for his brothers' alleged "crime". However a majority of other cases involving violence against women largely remained absent from the discourse on mainstream media during the year.
Punjab:
The data obtained through provincial right to information (RTI) law shows that despite pro-women legislation and increase in women quota in provincial parliament, violent crimes against women are on the rise across Punjab with over 3400 incidents of murder, honor killing, gang rape and acid burning during first six months of 2017. Over all in the province, 87 women were killed in the name of honor in first six months of 2017 alone. As many as 2608 women have been raped, 159 were gang- raped and 337 were murdered so far this year. The province has a population of 110 million according to fresh census conducted this year.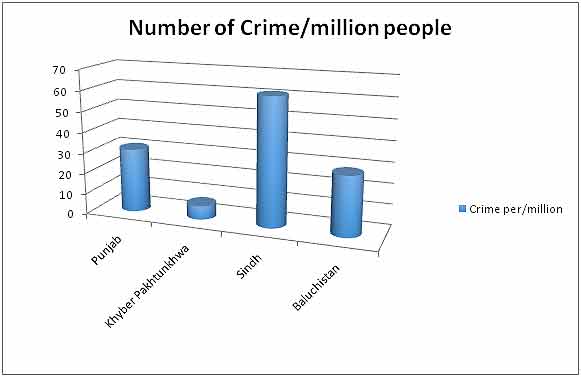 Talking to The News a top government official said the provincial government is fully committed to protect women rights and even Punjab Chief Minister Shahbaz Sharif himself makes sure that action is taken against culprits involved in heinous crimes.
"Earlier this year the Chief Minister himself visited a 16-year-old victim of the 'revenge rape' in Multan which was carried out on the order of a panchayat (informal village council). He suspended the entire police station and also some senior officials for negligence and all the 13 culprits were arrested which shows the resolve of the government against such crime," says Fauzia Waqar, Chairperson Punjab Commission on the Status of women, a government body aimed at improving women rights in the province.
When asked about highest number of crimes in the country in Punjab she said the province represents 55% population of the country and it has better reporting system. However she admitted that southern Punjab lags behind other parts of the province in terms of women rights owing to lack of education, tribal culture and police mind-set.
"Violence against women is worst in these southern districts despite government efforts to prioritise these areas in development funds," Ms Waqar said. In Muzaffargarh 25 women were murdered, three killed in the name of honour, 7 gang-raped and 124 raped during first six months of 2017. The district top the chart when it comes to crimes against women with 356 cases for this period surpassing Lahore, the Capital and the most populous district of Punjab which witnessed 219 such crimes during the same period. In Rahim Yar Khan, 297 crimes were committed against women while in Vehari 285 such cases were reported according to police data obtained by Centre for Peace and Development Initiatives (CPDI). Over all in Punjab, the data shows 337 women have been murdered, 87 killed in the name of honor, 1365 raped and 84 gang-raped between January to June 2017.
"Yes the data shows increase in number of crimes against women in the province but there could be various factors contributing to this phenomenon. Firstly, the population of the province is increasing so the ratio of crime may remain the same but the number will increase. Secondly after the introduction of 18 new laws for the protection of women, more women are encouraged to report violence against them which shows hike in numbers," Fauzia Waqar said.
She said in southern Punjab police sometime does not report the cases. "We also have feudal mindset in some parts of the province which contributes to crime against women. Overall a lot of work is still needed to be done to ensure protection of women rights in the province," she said.
The data for the year 2016 shows 7313 crimes against women in the province with Rahim Yar Khan being the most violent district with 636 crimes, followed by Vehari with 615 and Muzaffargarh with 550 crime incidents. The Capital Lahore remained number four with 547 crimes against women.
In 2015, 6505 crimes were reported against women in Punjab whereas Rahim Yar Khan against remained the most violent district with 794 crimes followed by Vehari with 747 incidents and Multan with 659 crimes. Lahore remained number four with 508 incidents and Muzaffargarh remained number five with 326 such crimes.
Khyber Pakhtunkhwa:
Although the number of reported crimes against women is lowest in KP, the experts believe the tribal culture and Jirga system discourages many women from reporting crimes against them. The police data obtained from KP shows 202 crimes against women in first six months of this year but surprisingly there is not a single reported incident of sexual or physical harassment in the province. As many as 97 women were murdered in the province during this period while 24 were killed in the name of honor. There were 72 rape cases and six incidents of domestic violence in the province. In comparison, last year's data show the province witnessed 211 murders, 44 honor killing, 163 rapes and one gang-rape incident along with cases of 24 domestic violence and one acid burning. The province witnessed 112 incidents of physical harassment last year.
Despite repeated attempts the Chairperson of Provincial Commission on Status of Women Neelam Toro did not respond to The News for her version.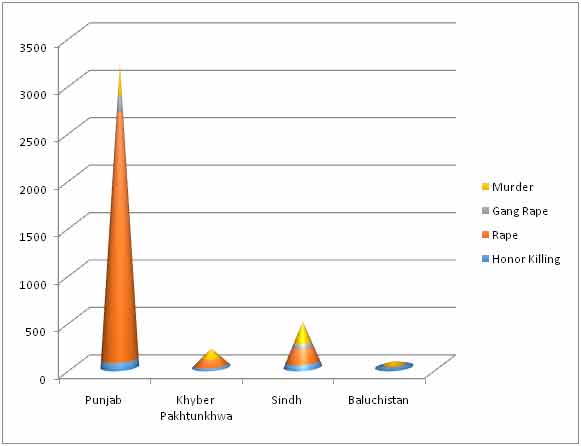 However prominent women rights activist in KP, Rukhshanda Naz who is also a member of UN women Civil Society Advisory Group in Pakistan said crimes against women are relatively low in the province due to some cultural reasons. But she admitted low reporting in tribal areas.
"Firstly in tribal areas every household has gun so criminals would think twice before targeting a women in those areas. Secondly, even if the crime against women occurs people will not report it to police and instead go for resolution through a Jirga," Toro said.
She said the cases of sexual harassment are not reported in the province as there is no mechanism to report such crimes in business or government organisations. When it comes to honor killing, the crime is hidden as the relative would term it suicide, she added.
"Sometime people do not report rape or harassment as they do not trust the justice system. They do not want to get embarrassed in the society especially when they are skeptical about chances of getting justice", Toro who also runs a civil society organisation "Legal Aid and Awareness Services" said.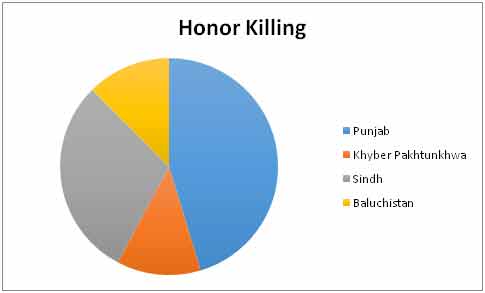 Toro said domestic violence is accepted in some parts of KP as symbol of a man's "power" and "honour".
She said in the notorious case of parading a 16-year-old girl in Dera Ismail Khan, an influential politician was allegedly involved which made it extremely difficult for the victim to get justice. She stressed the need for proper collection of data on crime against women in the province.
Sindh:
The province witnessed 2934 crimes against women in just 10 months of this year. As many as 57 women were killed in the name of honour during this period while 215 were murdered in Sindh. More than 156 women in Karachi and other parts of Sindh were raped while 47 have been gang-raped so far this year in the province. The province also witnessed 135 kidnapping of women, 1099 abduction and three forced marriages. So far this year, not a single person was convicted for these crimes although 1316 people have been arrested out of total 3553 accused.
Last year, the rural Sindh witnessed 100 incidents of honor killing, 165 rapes and 13 gang rapes, 5 acid attacks and six forced marriages while total crimes against women remained 2817. For all these crimes committed in 2016 just 7 convictions have been made.
While contacted for version, Justice (R) Mrs. Majida Razvi, Chairperson of official Sindh Human Rights Commission said the provincial government is showing political will to fight crime against women but it is facing challenges in implementation.
"Sindh has come up with highest number of women protection laws during last few years but it would take some time to change the mindset in the society," Justice Razvi said. She said influential people in Sindh do not allow proper prosecution involving crimes against women.
"There is also lack of awareness in police and law enforcement agencies about women rights but the commission is trying to train police in this regard," she said adding that Jirga system is also a big impediment in improving women rights in the province.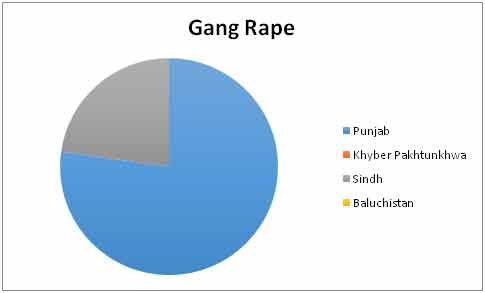 Balochistan:
Although the province witnesses 354 crimes against women during the first 10 months of this year, the per capita crime average is not very encouraging in this province if we compare it to other federating units of Pakistan. The province which has a population of 12.3 million according to 2017 census, witnesses 28.6 crimes against women per million people. According to police data the province witnessed 24 incidents of honour killing, 32 incidents of murders, four of rape and zero incident of gang-rape. The province witnessed 84 incidents of domestic violence. Last year, the province witnessed 371 crimes against women including 43 murders, 31 honour killings, five rapes and one gang-rape. Two incidents of acid throwing and 105 incidents of domestic violence were also reported in 2016.
The human rights expert like Rukhshanda Naz believes the data in Balochistan is highly under-reported owing to tribal culture and volatile law and order situation in the province.